Home Repair With 24/7 Customer Service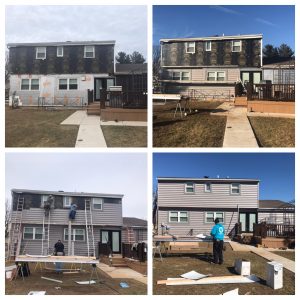 Whether it is an emergency repair due to storm or wind damage, or wear and tear that is finally taking its toll, our team can help! Joe Ritchie's home repair services offer a variety of repair options for your home. We seek the best option for your home, and work within your budget. There are many occasions where repairing an issue is simply more cost effective than replacing.
Our Repair Services:
EMERGENCY REPAIR
While your home is a place for protection, it's also subjected to natural elements that can damage your siding, roofing, windows, and more. Our team understands a storm can happen suddenly, and that's why our dedicated repair experts are always available to fix any unpredictable storm damage that may occur. We offer fast, professional repairs that can restore your home and get it back to the place you rely on to keep you and your family safe.
ROOF REPAIR
Whether your roof is leaking, damaged, missing shingles, rotting, or there's trouble with your flashing or venting, our home repair experts can help. We have the right experience and the right tools to get the job done fast. We'll thoroughly inspect your roof and make any repairs necessary to make sure it gets back to doing what it does best – protecting you and your family.
SIDING REPAIR
Since you're not always looking at the side of your house, it may be hard to notice siding damage. Once you do, however, it's best to give our home repair contractors a call. We're experts in rot, mold/mildew, rust, wind, water, heat, debris, hail, and many other types of siding damage. Don't let your compromised siding affect the security of your home.
WINDOW REPAIR
Windows are a great way to add natural light and airflow to your home, but they can also be problematic when they're worn or damaged. If your windows are in need of repair, they could be letting in outdoor air and making your heat or air conditioning system work harder. Let us help – we'll make sure your windows are well-insulated and well-sealed to prevent drafts and keep your home comfortable.
DOOR REPAIR
Door repair is another one of our popular home repair services. Whether you need your weatherstripping replaced, new hinges, new door locks, a screen adjustment, a threshold repair, or your caulking replaced, we can do it. We've serviced hundreds of front doors, storm doors, patio doors, and more and returned them all to working condition.
GUTTER REPAIR
Because gutters are crucial to move water away from your home, they need to be in good shape at all times. Gutters that are sagging, rusted, or pulling away from the house won't be able to direct water properly and in turn, could cause water damage to your home. Let our home repair team take a look at your gutters and adjust them for maximum efficiency.
EXTERIOR REPAIRS
From damaged screen porches to broken deck boards to vinyl railing holes and more, we also offer exterior repairs to keep your home looking great. Don't let minor blemishes reduce your curb appeal – call us today and set up a repair appointment.
INTERIOR TRIM & REPAIRS
At Joe Ritchie General Contractor, we do it all! Our home repair specialists can fix nearly any issue you may have, including trouble with your wall trim, basement/attic steps, shelving, and many other interior problems. Don't be afraid to ask for our repair team when you experience an issue within your home.